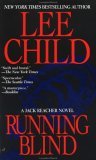 Running Blind by Lee Child
My rating: 3 of 5 stars
My actual rating would be closer to a 3.5 stars.
I'm wanting to like Lee Child and Jack Reacher. I really am, but I think I'm about to give up.
Child simply doesn't know how to write in "American" English, which wouldn't be a big deal if he weren't writing about someone that had been in the U.S. Armed forces.
He also seems to know very little about firearms. Again. It wouldn't be a big deal if he didn't choose to write about them. One sentence near the beginning of the book almost induced me to throw in the towel. "He clicked the trigger to free the slide…"
I've never read a better example of poor writing and editing.
As far as the story itself goes, this is the first of the series that wasn't transparent, and (to be honest) that was partly due to some cheap tricks by the author to disguise the antagonist.
Still, the best so far and I'll give the next one in the series a shot.